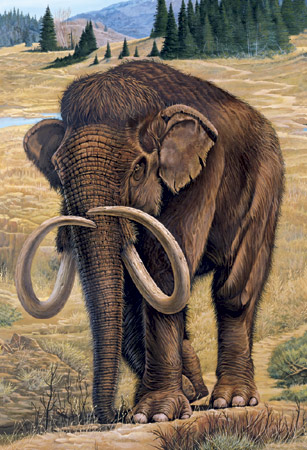 Artist, Joseph S. Venus, has studied and researched mammals and people of the Pleistocene time period, 10,000 to 15,000 years ago.
The Columbian Mammoth stood from 12' to 14' tall and weighed approximately 10tons. Mammoths were mainly grazers, eating grass, sedges, birch, and sage brush.
In 1988 skeletal remians of the hugh Columbian Mammoth were unearthed below Huntington Reservoir in Emery County.
A principle subject of the mural is a 5' tall recreation of the Huntington Mammoth. It is surrounded by other Ice Age Mammals such as American Mastodons, Camels, Bison, Saber-tooth Cat, Giant Sloth, Musk Ox, Giant Short-faced Bear, Badger, Cougar, Bison, Eagles, Birds and Paleo Indian Hunters.
An awesome, articulated replica of the Columbian Mammoth Skeleton now holds center stage in the CEU Prehistoric Museum.